Look who is back! It is me-me-me! I am very much back to blogging, I was a little busy. So, I was going through YouTube recently and I've wanted to take part in a readathon, perfect timings we've got here. Excited to participate. It is actually a very interesting readathon. Esmay (from Bookish Buddies), the host has actually prepared a board game for the readathon. Is that not amazing!? You roll a dice, see the prompt for that number and read, carry on OR you can roll the dice and get to number 62, note it down and make a TBR before hand. (yes, that is what i did.)
Well, I heard a lot about Asian Readathon and did not wished to be left out so I have decided to take part in it as well!
Both the readathons are month long and run from May 1 – May 31st. If you want to join, just join anytime.
A Book That Includes Travelling – Aix Marks The Spot by S.E. Anderson
Jamie has been dreaming of this summer forever: of road trips and intensive art camps, of meeting cute boys with her best friend Jazz. What she didn't count on was the car accident.
Exiled away from her family as her mother slowly learns to walk again, Jamie is sent to Provence and trapped in an isolated home with the French grandmother she has never met, the guilt of having almost killed her parents, and no Wi-Fi. Enough to drive a girl mad. That is, until, she finds an old letter from her father, the starting point in a treasure hunt that spans across cities and time itself. Somehow, she knows that the treasure is the key to putting her shattered family back together and that whatever lies at the end has the power to fix everything.
Armed only with a high-school-level of French and a map of train lines, she must enlist the aid of Valentin, a handsome local who's willing to translate. To save her family, she has castle ruins to find and sea cliffs to climb; falling for her translator wasn't part of her plan…
---
I won the audiobook and got my code just yesterday and I think it is a perfect fit for the prompt. I am thinking, this will go on month long as I am not very used-to audiobooks, this is third or fourth audiobook I'm listening to!
A Book with a strong female lead – The Startup Wife by Tahmima Anam
A quirky, funny, deeply intelligent story of love, big dreams, starting up and feminist geekdom
Halfway through her PhD and already dreaming of running her own lab, computer scientist Asha has her future all mapped out. Then a chance meeting and whirlwind romance with her old high-school crush, Cyrus, changes everything.
Dreaming big, together with their friend Jules they come up with a revolutionary idea: to build a social networking app that could bring meaning to millions of lives. While Asha creates an ingenious algorithm, Cyrus' charismatic appeal throws him into the spotlight.
When the app explodes into the next big thing, Asha should be happy, shouldn't she? But why does she feel invisible in the boardroom of her own company? Why are decisions being made without her? Gripping, witty and razor-sharp, The Startup Wife is a blistering novel about big ambitions, speaking out and standing up for what you believe in.
---
So, I have a proof copy of this book! Amazing Lucky Zhou sent the proof to me and I am so excited to read this one! Let's see what it brings for me!
A Hyped Book – You Should See me In a Crown by Leah Johnson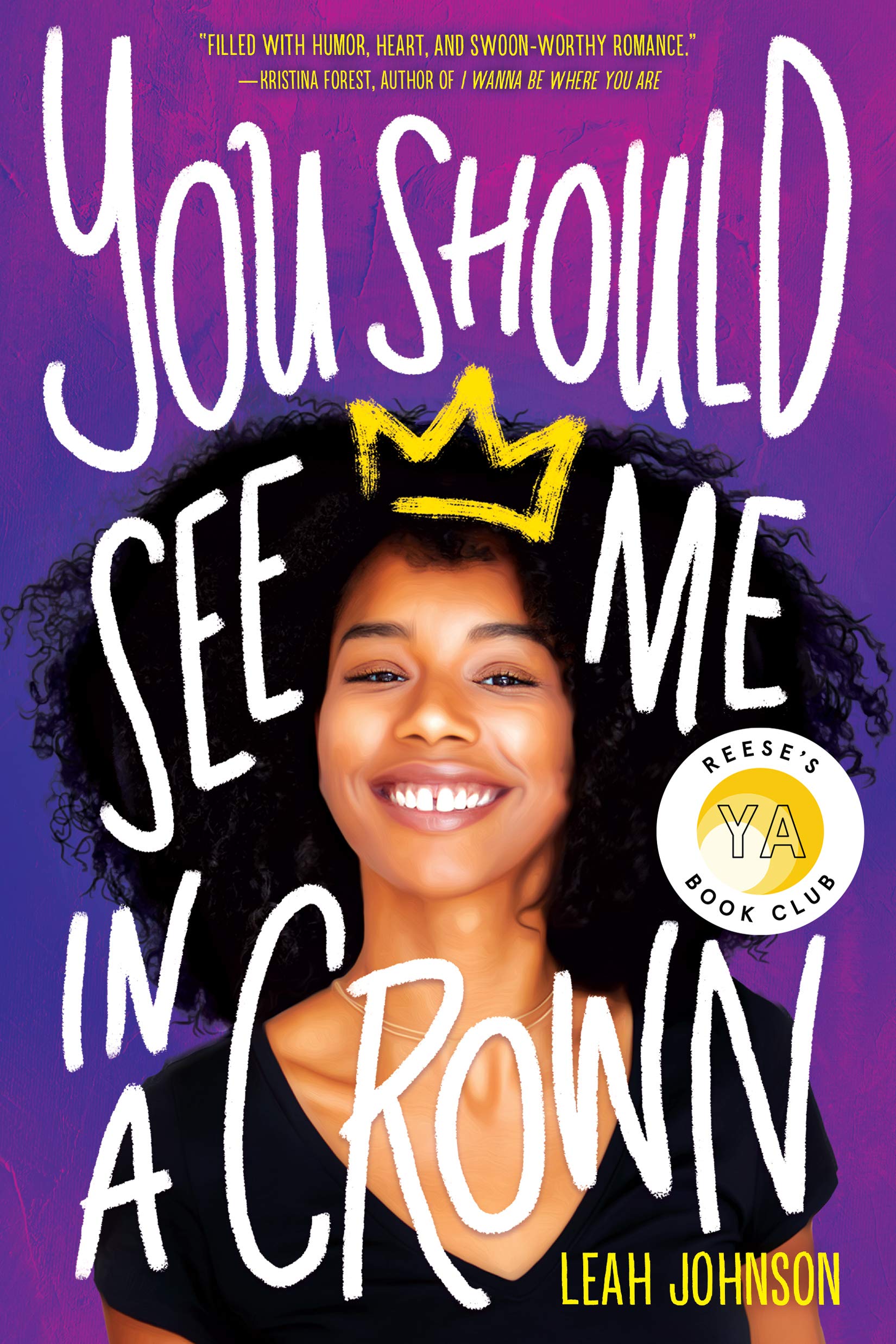 Liz Lighty has always believed she's too black, too poor, too awkward to shine in her small, rich, prom-obsessed midwestern town. But it's okay — Liz has a plan that will get her out of Campbell, Indiana, forever: attend the uber-elite Pennington College, play in their world-famous orchestra, and become a doctor.
But when the financial aid she was counting on unexpectedly falls through, Liz's plans come crashing down . . . until she's reminded of her school's scholarship for prom king and queen. There's nothing Liz wants to do less than endure a gauntlet of social media trolls, catty competitors, and humiliating public events, but despite her devastating fear of the spotlight she's willing to do whatever it takes to get to Pennington.
The only thing that makes it halfway bearable is the new girl in school, Mack. She's smart, funny, and just as much of an outsider as Liz. But Mack is also in the running for queen. Will falling for the competition keep Liz from her dreams . . . or make them come true?
---
I have heard a lot about this book everywhere! And I have a hardcover for it lying in the cupboard for a long time waiting to be read! So, why not!? I am very excited to read it!
Book In A Desert Setting – Dustborn by Erin Bowman
Delta of Dead River has always been told to hide her back, where a map is branded on her skin to a rumored paradise called the Verdant. In a wasteland plagued by dust squalls, geomagnetic storms, and solar flares, many would kill for it–even if no one can read it. So when raiders sent by a man known as the General attack her village, Delta suspects he is searching for her.
Delta sets out to rescue her family but quickly learns that in the Wastes no one can be trusted–perhaps not even her childhood friend, Asher, who has been missing for nearly a decade. If Delta can trust Asher, she just might decode the map and trade evidence of the Verdant to the General for her family. What Delta doesn't count on is what waits at the Verdant: a long-forgotten secret that will shake the foundation of her entire world.
---
I hope this is a correct book for the prompt. Assuming, from the title of the book, I guess it will be perfect for the desert vibe book! But, if i don't feel like it, I'll use it for a wildcard and use some other book!
Book in an Arabian Setting – The Forbidden Wish by Jessica Khoury
She is the most powerful Jinni of all. He is a boy from the streets. Their love will shake the world…
When Aladdin discovers Zahra's jinni lamp, Zahra is thrust back into a world she hasn't seen in hundreds of years—a world where magic is forbidden and Zahra's very existence is illegal. She must disguise herself to stay alive, using ancient shape-shifting magic, until her new master has selected his three wishes.
But when the King of the Jinn offers Zahra a chance to be free of her lamp forever, she seizes the opportunity—only to discover she is falling in love with Aladdin. When saving herself means betraying him, Zahra must decide once and for all: is winning her freedom worth losing her heart?
As time unravels and her enemies close in, Zahra finds herself suspended between danger and desire in this dazzling retelling of Aladdin from acclaimed author Jessica Khoury.
---
I have no idea what to expect from this. It seemed interesting so I got myself an ebook. I hope it turns out good!
A Sequel
I have a few options for this one as I am not sure which one of the first books of the series, I'll be able to finish.
I have hard copy of the first two, and still reading the first two (both of them are huge! 400+ pages) and if I finish one of them, I'll continue the series but if not, I'll jump to The Rise of The Dawnstar as I am pretty sure that if I start The Last of The Firedrakes (Book 1), I'll finish it in a day. .so let's see. Might read the first book for Asian readathon.
That is it for the Desert-A-Thon TBR! I will be using the two Wildcard Entries for Asian readthon, just so I do not have more than ten book and hopefully can finish all of them!
Asian Readathon TBR!
Combining three prompts: Read any book written by an Asian author, Read any book featuring an Asian protagonist and Read any book written by an Asian author in your favorite genre.
Iron Widow by Xiran Jay Zhao
The boys of Huaxia dream of pairing up with girls to pilot Chrysalises, giant transforming robots that can battle the mecha aliens that lurk beyond the Great Wall. It doesn't matter that the girls often die from the mental strain.
When 18-year-old Zetian offers herself up as a concubine-pilot, it's to assassinate the ace male pilot responsible for her sister's death. But she gets her vengeance in a way nobody expected—she kills him through the psychic link between pilots and emerges from the cockpit unscathed. She is labeled an Iron Widow, a much-feared and much-silenced kind of female pilot who can sacrifice boys to power up Chrysalises instead.​
To tame her unnerving yet invaluable mental strength, she is paired up with Li Shimin, the strongest and most controversial male pilot in Huaxia​. But now that Zetian has had a taste of power, she will not cower so easily. She will miss no opportunity to leverage their combined might and infamy to survive attempt after attempt on her life, until she can figure out exactly why the pilot system works in its misogynist way—and stop more girls from being sacrificed.
I am very excited to have this ARC. Saw it being hyped everywhere and I am so excited to read it now!
Read any nonfiction book written by an Asian author and Read any book written by an Asian author that's not US-centric – The Sun and Her Flowers by Rupi Kaur
From Rupi Kaur, the #1 New York Times bestselling author of milk and honey, comes her long-awaited second collection of poetry. A vibrant and transcendent journey about growth and healing. Ancestry and honoring one's roots. Expatriation and rising up to find a home within yourself.
Divided into five chapters and illustrated by Kaur, the sun and her flowers is a journey of wilting, falling, rooting, rising, and blooming. A celebration of love in all its forms.
this is the recipe of life
said my mother
as she held me in her arms as i wept
think of those flowers you plant
in the garden each year
they will teach you
that people too
must wilt
fall
root
rise
in order to bloom
I like reading poetry and have heard a lot about her works so why not give it a shot!
---
The TBR for the Asian readathon is quite small but if I finish all the books listed above, i'll surely be picking up more Asian books this month! For now, I guess I will have to try and finish all the books I've chosen, most of which are 350+ pages!
---
Do you have any of these on your TBR? Or have you read any of them before? Do leave your thoughts in comments!